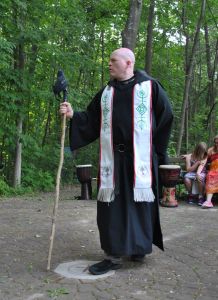 My name is Rev. Christopher Temple (a.k.a. Grollwynn). I am the current Senior Druid of Whispering Lake Grove as well as the Chief Seer.
Within ADF I serve as Preceptor of the Liturgist Guild, Senior Priest, Chief of the Norse Kin, and Clergy Advisor to the Order of the Dead.
I am a happily married father of a beautiful daughter. In September of 1993 I dedicated myself to the service of the Earth Mother and the Kindred and I have been happily, gratefully true to my oath since then.  Since that time I have been a High Priest of a Wiccan Coven and the co-editor and writer for a local pagan publication (C.O.L.L. of the Goddess). I sat on the Executive Council of the Alternative Religions Educational Network (formerly known as Witches Anti-Discrimination League) as Northwestern PA Director, Director Liaison, and Regional Director.
Outside of ADF, I earned an Associate Degree in Astrology and Parapsychology. For over thirty years I have studied Tarot and other forms of divination, both privately and professionally.
In November of 2005 I joined ADF and Whispering Lake Grove. This was a decision I haven't regretted for a single moment. Since joining I have completed the Dedicant Program and all three levels of the Clergy Training Program ultimately elevating to Senior Priest in 2015.  I also completed the Three Circles of Liturgy Training within the Grove. In 2018 I completed the Initiation Trials of ADF. I also work with inmates within the confines of prison ministry locally.