Rev. Carrion Mann is an ADF Senior Priest and the current Chief Liturgist of Whispering Lake Grove, as well as a Senior Druid Emeritus.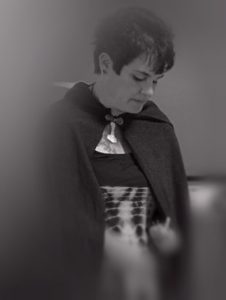 "I have been a member of ADF since 2001 and a member of Whispering Lake Grove since 2003. While I am perhaps most well known in ADF for my work with the Dead, I have served the folk of ADF in a variety of official capacities since that time to include: Vice Arch Druid, ADF Priest, Non-Officer Director, Preceptor, Liturgist Guild Chief and Scribe, Chief of Clann na Gael, Lead of the Order of the Dead, and as a reviewer and mentor for students of several different study programs. Additionally, I have assisted members of Whispering Lake Grove to co-host with 6th Night Grove the Summerland Festival for many years.
Outside of ADF, I recently completed my Master of Arts in Clinical Mental Health Counseling and am employed as a program director in the field of human services working with at-risk youth. I am also the mother of three and grandmother of three. My hobbies include genealogy, writing, reading, spending time in the outdoors, and the continuous study of history and religion.
I have "officially" practiced a Pagan spiritual path for the better part of three decades, but, my values and beliefs were Pagan long before this time.  I just didn't know what to call them.  Not unlike others that practice Druidry, I wandered through various spiritual paths before finding the path that was right for me.  I have always had a need for spirituality in my life and my quest to find what I was looking for has led me down many paths.  Until I found ADF in the late 90s these paths had always ended in frustration; as I found myself trying to force my values and beliefs to fit existing structures of various religious institutions.
Over the years I have made many valiant attempts to force myself to "fit" into some form of organized religion and had all but given up finding a path that was right for me.
Prior to joining ADF in January of 2001, I practiced Wicca and then Druidry with my late husband Rev. Raven Mann, as a solitary.  In February 2003 my search for other like-minded individuals led to my decision to join the newly chartered Whispering Lake Proto-Grove.  I have been an active member of Whispering Lake Grove since that time. In August of 2008 I completed the 1st Circle of the ADF Clergy Training Program and was consecrated as an ADF Priest during the 2008 Summerland Festival in Ohio.  In 2014 I completed the pre-2011 CTP and the new CTP 2nd and 3rd Circle requirements and was elevated as a Senior Priest at Summerland Festival.
I remain dedicated to honoring the Kindred, loving the Land, and Serving the Folk through teaching, leading, writing and performing ritual.  I am also dedicated to continuing my studies in ADF Druidry to enhance my work and my ability to serve.
Yours Within the Mist…